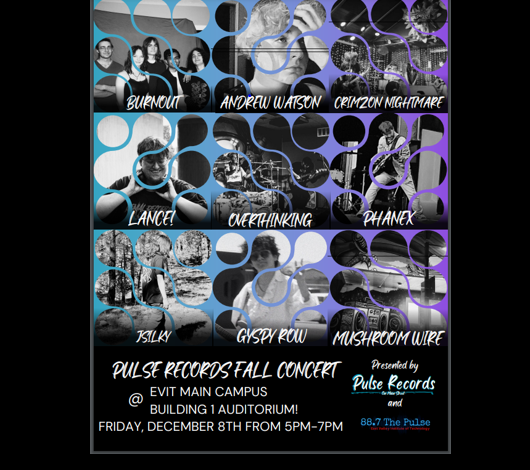 We are thrilled to announce the inaugural concert presented by Pulse Records! This exceptional event is scheduled to take place at Evit's Main Campus, specifically in Building 1 Auditorium, on Friday, December 8th, commencing at 5 PM and concluding at 7 PM.
The concert boasts an impressive lineup of bands in collaboration with Pulse Records, featuring Burnout, Crimzon Nightmare, Overthinking, and Mushroom Wire. Additionally, the evening will showcase solo performances by talented artists such as Andrew Watson, Lance, Phanex, Jsilky, and Gypsy Row.
This remarkable concert marks a significant milestone for Pulse Records, and we extend our gratitude to Evit instructor Noah Allen, whose invaluable support has made this event possible. We cordially invite you to join us at Evit's Main Campus for an unforgettable night filled with exceptional music and entertainment. Don't miss out on what promises to be a highlight of the year!