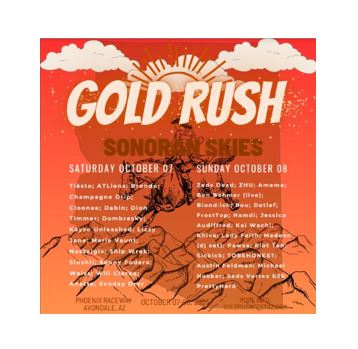 Goldrush returns to Phoenix Raceway on October 07-08, 2023. Relentless Beats has announced phase 02 of its Goldrush, Sonoran Skies lineup, at the Phoenix Raceway.
On Saturday October 07, artists such as Tiësto; ATLiens; Brondo; Champagne Drip; Cloonee; Dabin; Dion Timmer; Dombresky; Kayzo Unleashed; Lizzy Jane; Marie Vaunt; Nostalgix; Ship Wrek; Slushii; Sonny Fodera; Weiss; Will Clarke; Anatta; Svnday Drvr, will be performing.
On Sunday October 08, artist such as Zeds Dead; ZHU; Ameme; Ben Bohmer (live); Blond:ish; Bou; Detlef; FrostTop; Hamdi; Jessica Audiffred; Kai Wachi; Khiva; Lady Faith; Madeon (dj set); Pawsa; Riot Ten; Sickick; TOBEHONEST; Austin Feldman; Michael Hooker; Seds Vortex b2b PrettyHard will also be performing.
Relentless Beats has recently announced the 6th Annual Gold Rush DJ Competition, to which you have the chance to win an opening slot on the Gold Rush.
Relentless Beats is also holding a Weird & Wonderful casting call on July 24 at Darkstar in Tempe. Goldrush, Halloween and Decadence Arizona is seeking dancers, clowns, acrobats, slit walkers, hoopers, baton twirlers, jugglers, and everyone in between. For more information click here.
For our fans who travel to the Valley for the experience travel packets are also available. This includes but is not limited to hotel stays, roundtrip transportation, 2-day passes, express entry, and onsite experiences. Each package's offering varies, for more details on packages click here.
Reservations for tables at both main stages are available for booking as well. This includes entrance to the festival, access to the VIP lounge and Viewing deck, dedicated express entry, packaged food and beverage, and a dedicated host, server, and cocktail staff for only two thousand, five hundred dollars. Enhance your experience and reserve a table by clicking here.
All ticket levels for Goldrush are on sale now, visit www.relentlessbeats.com for a lifetime experience!