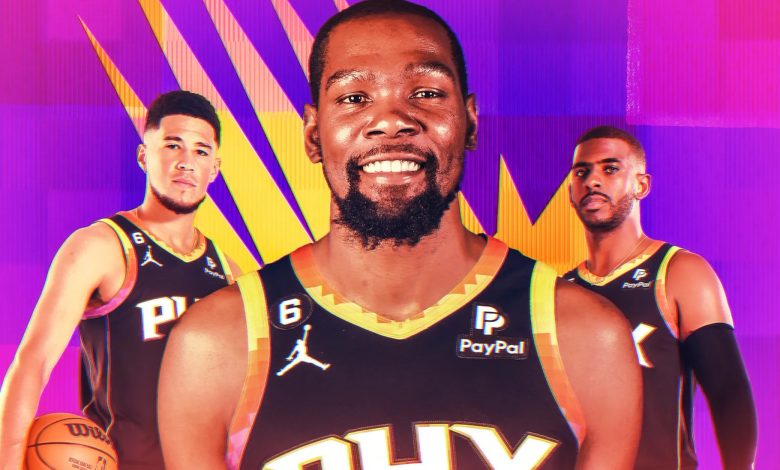 Now that the dust has settled from Super Bowl LVII and pitchers and catchers are reporting to spring training, there is one name buzzing around Phoenix – Kevin Durant. KD, AKA the 'Durantula', AKA the 'Slim Reaper' is an All-NBA veteran 6'10" sharp shooting "small" forward recently acquired by the Phoenix Suns in a trade that sent three players and four draft picks in exchange to Brooklyn.
There seem to be two reactions amongst the local sports fan in regards to the swap:
A vision of the latest Big 3: Chris Paul, Devin Booker, and Kevin Durant holding the Larry O'Brian NBA world championship trophy in early April, a parade through Jefferson Street downtown, and they all sign extensions to win not one… not two… not three… you get the idea!
The Suns just auctioned off their depth and their future in exchange for an insatiable $42 million dollar prima donna who can't carry a team on his own and has wiggled his way out of three different teams while on the back end of a formerly historic career.
Both arguments have merit. Either argument could wind up to be true. Maybe both will be true! But let me offer a different perspective: encouragement. Until the games are played there is no way to tell how well Durant will gel with what's left of the current roster, and only time will tell if he demands another trade before his current contract is up. But what we can all celebrate as sports fans is that we have an owner and GM that spent the money and took the risk.
In sports there are two kinds of owners: businessmen who own small market teams looking to save a penny and earn a nickel, and are more concerned with the bottom line being in the black than the win/loss column. See: Oakland A's & Cincinnati Reds, New York Knicks & Orlando Magic, Cleveland Browns & Washington Commanders. These teams don't make big splashes on trade deadline day – except to send their budding superstars to bigger franchises for draft picks & cash considerations. They are constantly rebuilding and begging fans to continue paying $11 for a hot dog when people in the stands have to have an AARP card to have been alive the last time they won a playoff game.
Then there are the fanboy owners. People who grew up in obsessed awe of pro athletes and dreamed of how cool it would be to have some part in a pro sports team. They want to bring excitement to a city, put a fun and competitive product out on the field or court and, most importantly, are willing to spend the money to do it. These owners become celebrities in their own right, whose names the general public probably wouldn't know if it weren't for their ownership. See: Mark Cuban, Jerry Jones, Steve Cohen, Steve Ballmer, and now after making the move to bring in Kevin Durant we can add new Suns owner Mat Ishbia to this second list.
Will this blockbuster gamble lead the Phoenix Suns to NBA titles? Or will their lack of depth and draft picks, along with a "Big 3" made up of now aging superstars come back to haunt them down the playoff stretch? I don't know. I'm just excited to have an owner who isn't afraid to open the checkbook and roll the dice, and we all get a front row seat to watch it unfold.
"Coach" Mark McCann is a contributor to the Dueling Coaches Show, airing Saturdays at 8am on 88.7fm The Pulse, streaming on 887thepulse.com, or you can download it as a podcast on all major platforms!